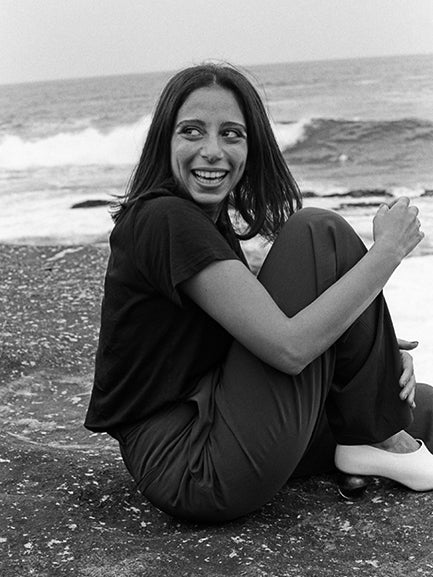 NEOUS footwear and handbags twist the unbroken line of informed design to create sculptural forms. Stringent functionality through feminine form respond to the flux and flow of everyday life. Handmade in Italy, by independent artisans through traditional hand work techniques, NEOUS products are a process of calibration and constant refinement.   Vanissa Antonious blends the fluid lines of minimalism with a crafted femininity to explore stringent functionality and feminine form. As such, NEOUS footwear and handbags respond to the flux and flow of life. 
Drawing on an art history education and passion for story telling through image creation, Antonious brings an informed but non-conformist vision to NEOUS. Celebrating her Egyptian heritage and a childhood spent in Australia, NEOUS is inspired by Antonious' diverse friends from across the world and created for the modern realist - curious, dynamic and versatile. Each collection, style and idea is exploratory – harnessing the cultural hybridity of our time, whilst adapting to our ever changing world.  Made in Italy, by independent artisans using century-old, traditional hand work techniques, NEOUS speaks of an understated value. Using only the highest quality and grade of natural materials, each piece is hand selected for its tonal variations and natural marks, embracing its tendency to change and soften through time and wear; translating a timeless aesthetic through abstracted form.
The synergy between material and form is continually explored through our footwear and handbag design and is expressed through the organic ripple and folds of leather and found in solid, sculptural heels – wrapped or woven. Handbags are sculptural, exploring fluid forms by using the softest of leathers found in a neutral colour palette refined for modern life.    NEOUS draws on the ancient eastern philosophy of Do––meaning road, way or path and is characterised by constant refinement and learning from repetition. Beyond the craftsmanship, the brand honours this through thoughtful and ethical practices––sourcing quality, long-lasting natural materials and by using recycled packaging. A transparent approach allows the NEOUS woman to be informed in her choices. Footwear and handbags are handcrafted by skilled makers, known by name––and for their craft––be it in pattern making, cutting, sewing or moulding. Their intuition, passion and adaptability are integral to NEOUS.
EXPLORE THE COLLECTION